The world of online advertising is constantly growing and changing. In recent years, the presence of influencers in social media has become increasingly relevant also thanks to the numerous collaborations with different brands.
Influencers manage to influence the opinions and purchase decisions of their followers. Hence, brands initiate partnerships to incentivize product sales and also their visibility. What if influencers weren't real? So let's talk about virtual influencers .
Who are the virtual influencers?
At first glance, virtual influencers seem like normal people who share their life on social media, as we all do. In reality, however, none of them are real: in fact they are created using a CGI technology (English acronym for computer generated image) and exist only on the web!
In recent years their role in social media has become increasingly important, so much so that they have created a fanbase that follows them faithfully and is strongly linked to them. Let's get to know them!
5 virtual influencers to know and follow
Lil Miquela
It is the first virtual influencer. It was born in 2016 thanks to the inventiveness of the Californian startup Brud . Lil Miquela looks like a nineteen year old girl, a lover of music and fashion. Over time he has cultivated this passion by collaborating with numerous world brands, including Chanel, Supreme, Samsung and Calvin Klein for which he posed with the supermodel Bella Hadid . In 2018 he began his career as a singer and on Youtube and Spotify his singles have millions of views.
Lil Miquela currently has over three million Instagram followers interacting with her!
2. Shudu Gram
The world's first virtual supermodel was born in 2018 thanks to the inventiveness of artist Cameron-James Wilson .
She is a beautiful black woman, with features that make her super realistic: at first glance she doesn't even seem virtual! Shudu Gram has collaborated with numerous brands including Ellesse and Fenty Beauty. She has also paraded for virtual fashion weeks and has a portfolio of her own in the virtual modeling agency The Diigitals.
Shudu currently has 224,000 followers who follow her from all over the world.
3. Noonoouri
Created by the artist Joerg Zuber , Noonoouri was born in Munich in 2018. Followed by more than 224 thousand people, she is both an influencer and a model. Noonoouri introduces herself as a vegan, lover of culture, Haute Couture fashion and make-up. Unlike previous virtual influencers, Noonoouri has a little human aspect and more like that of a doll or a cartoon.
Since 2019 Noonoouri is represented by the US fashion agency IMG Models . On the agency's website, you can see Noonoouri's portfolio, full of collaborations with fashion brands and magazines such as Versace, Dior, Vogue and Cosmopolitan.
4. Knox Frost
He is the most popular male virtual influencer. He is 21, lives in Atlanta and was created by the US agency Influential .
Knox loves video games, sports and interacting with his followers, sharing his passions and even his "no" moments. He too is the protagonist of numerous partnerships, even with the World Health Organization ( WHO ) which has hired him for awareness campaigns and donations.
On Instagram he is followed by more than 670 thousand followers, mostly young teenagers.
5. Nephele
Nefele is the first Italian Virtual i influencer, born in 2021 in Turin thanks to the commitment of Filippo Boschero, Laura Elicona and Luca Facchinetti: three guys from Turin who wanted to enhance the concepts of imperfection and diversity on Instagram. Nefele is non-binary, suffering from vitiligo and loves to post content on Instagram that enhances diversity and her passion for culture and travel. Despite still having just over 1000 followers on Instagram, it is already on everyone's lips, also becoming the first virtual influencer testimonial for the Viareggio Carnival!
The growth of Influencer Marketing
As already seen, investing in collaborations with the hottest influencers of the moment is very important for companies. In fact, partnerships have grown exponentially, especially in recent years. Brands rely on them to increase their social media presence and attract more and more customers. In 2021, companies invested more than 13 billion euros to advertise their products through digital influencers.
In Italy, the investment in collaborations with social influencers has created a business worth 280 million euros, generating approximately 450,000 jobs.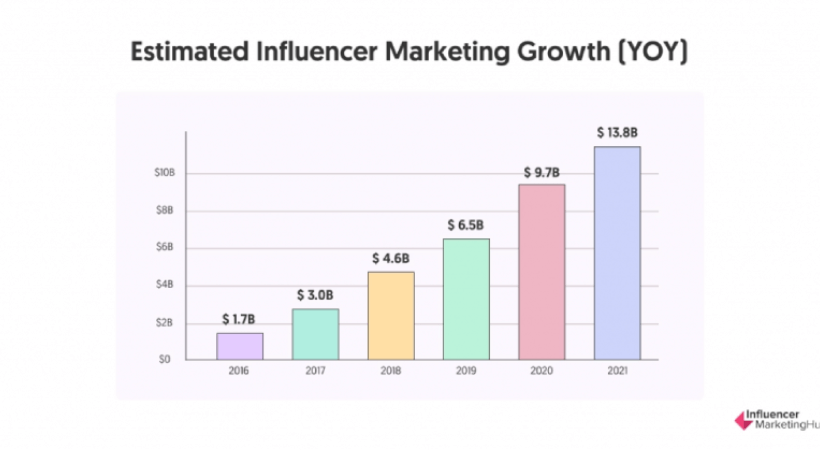 Virtual influencer: the future of Digital Marketing in the Metaverse?
Although this is only the beginning, virtual influencers are increasingly popular in the world of social networks, becoming an essential part of online advertising for many brands. According to statistics, in 2021 the social impact of virtual influencers covers a large slice of Influencer Marketing, so much so as to lead the brands themselves to create virtual mascots: in 2021 Prada presented the virtual model Candy , inspired by the perfume of the same name. brand.
Virtual influencers are changing the paradigms of the digital market, especially in the fashion sector and are ready to immerse themselves in the Metaverse : in fact they will be the first inhabitants of the virtual universe and will be able to extend their range of action. In fact, in the Metaverse, they will have the opportunity to participate and interact even more with their community, thus also strengthening partnerships with brands!
Stay up to date if you want to find out how to improve your company's communication and create your own personalized virtual influencer, contact us!
Check out the articles on our blog and don't forget to follow us on Instagram , Facebook and LinkedIn !